Root Seeking Experience -
Chee Ancestral Village Visit 2017
In 2017, I went with a group of Chee relatives to visit our ancestral village in China and other Chee villages together with surrounding areas. We were not the first to re-establish contact with the ancestral village; the first delegation had visited in 2015. Thus it was comparatively trouble-free as the most difficult part is to locate and confirm whether it is the correct village!
Nevertheless, planning for the trip wasn't easy. Although we had pictures of the ancestral village from the previous visit, we did not possess basic details such as the address of the village or contact numbers of our clansmen over there; the visit was arranged through a tour company and local contacts. We had no means to contact the village and almost had to start from scratch.
Thankfully, a group member had a friend with local China contacts who put us in touch with the local branch of the All-China Federation of Returned Overseas Chinese (ACFROC) which eventually managed to locate and contact our ancestral village.
Our bus left for Longhai City at 8am on 21 April 2017 from Xiamen. The journey took an hour and upon arrival, we were greeted by the Chairman of the ACFROC, together with Chee clansmen from Tianwei village. We were then brought to the ACFROC office, and Chee clan members from both sides were left to fraternize with each other for an hour.
They surprised us when they produced a photocopy of our very own Malacca Chee Genealogical records. Apparently, it was left behind by someone in China, and since then it had been circulating around China and even archived in the local Longhai library. Among the China clan representatives was an elderly man who shared his research on our very own Guandai Chee branch, and he revealed that there were other Chee clansmen from the same branch that had settled in Palembang and Cirebon in Indonesia.
Our Tianwei clansmen explained that we were from the same Guandai branch, whose founding ancestor was Junxiang, descended from our grand ancestor Shibalang. Junxiang migrated from Changtai to Guandai during the early years of the Ming dynasty.
Guandai is the old name of Tianwei and the name is the place of origin carved on nearly all Malacca Chee tombstones in Malaysia and Singapore.
It was sad to learn that the Tianwei clansmen had lost their own original Genealogical records. Thus we were unable to link their family tree to ours as they were still re-constructing theirs.
Finally, in a simple ceremony, our group leader presented a banner scroll to the ACFROC as a gesture of goodwill and in return they presented a plaque to us. Group photographs were taken and we then adjourned to Tianwei Village.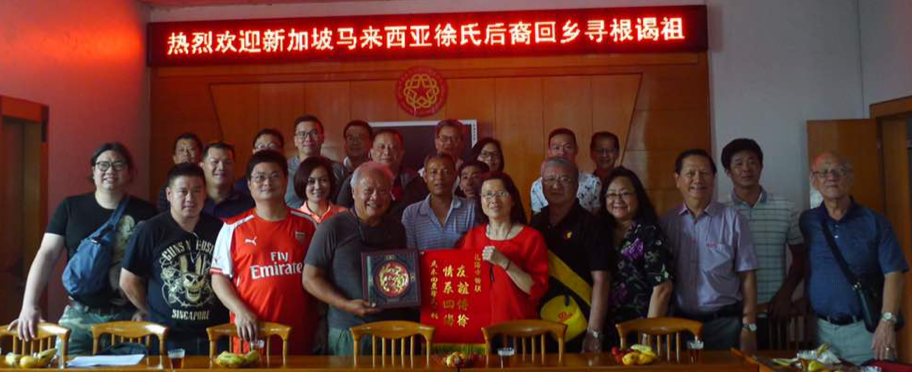 Group photo with Chee clansmen and local ACFROC Chairman
Tianwei Village was the same village visited by the previous delegation. It is located by the river delta and thrives on agriculture. One can see many 'mushroom' houses throughout the village.
We were greeted by the same archway the previous delegation saw, which marked the entrance to the village. Our clansmen explained that it was built during the era of Emperor Qianlong (1735-1796) by a 7th generation Chee in commemoration of his mother, who single-handedly raised her children. In those days, building such a structure required permission from the government and in this case the emperor himself! This Chee must have been influential back then.
The archway at Tianwei Village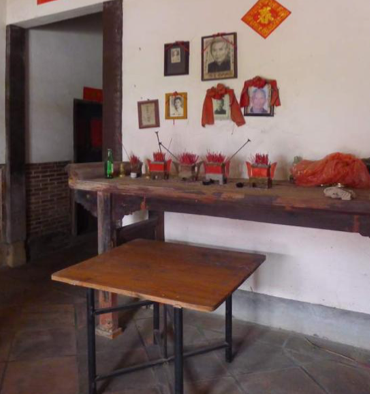 Ancestral temple in Tianwei Village
We were told of a 'conflict' within the Chee family in the past which led to a separation. It was how some Chee clansmen ended up in this village.
We also visited an ancestral temple in the village with photos and ancestral tablets of their loved ones. During the Cultural Revolution, they hid their genealogical records here to prevent them from being destroyed. In an unfortunate turn of events, it was a flood that destroyed the records instead.
In the old days, Overseas Chinese who visit their ancestral village would make a copy of the Genealogy records and update it with their own family information for completeness. Usually the process of establishing the correct ancestral village involves matching one's own genealogical records with that in the village. In our case, this was not possible.
By the side of the house was an old broken tombstone. It belonged to a lady married to a Chee who died in the 1940s. Our clansmen brought it out to show us the words 'Guandai' and 'Chee'. This convinced me we had truly found our ancestral village.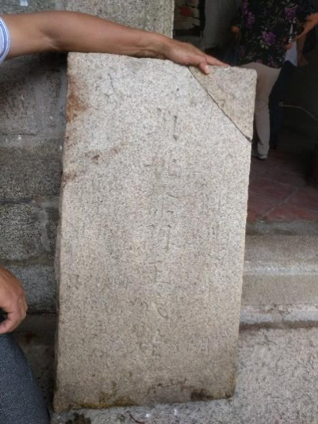 Broken gravestone of a lady married to a Chee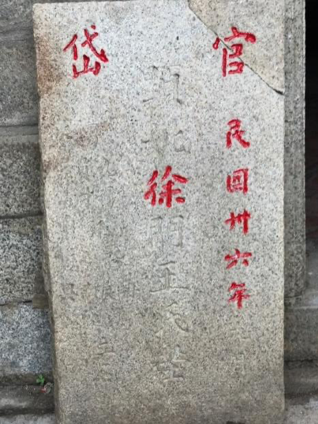 'Guandai' and 'Chee' painted in red
The group then proceeded to the local temple for a tour. They showed us pillars donated by Chees in the past. We then took a group photo outside the temple, which was followed by a red packet presentation ceremony.
Next was lunch at a nearby restaurant. On the way out of Tianwei village, we passed by a field and school. This was where our Grand Ancestral Temple, called Zhuiyuan Tang once stood.
Our clansmen treated us to a hearty Chinese lunch of more than 10 dishes. Here, we presented them with Scottish Whiskey and Chinese cigarettes as gifts.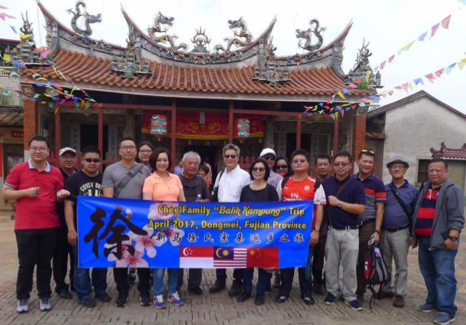 Compulsory group photo
Lunch with our clansmen
Our original intention was only to visit our ancestral village and famous tourist spots in this part of China as most families usually did. At the suggestion of a distant Indonesian Chee clansmen, we visited other Chee villages in the same area not visited by the previous delegation.
The Chee clansmen we met were from other Chee branches. We are not directly related to them but share a common ancestor – Shibalang – from the Song Dynasty. Despite being very distantly related, we immediately sensed their warm hospitality and genuine desire to share what they know about the Chee family.
They shared their research about Shibalang and his sons. They even brought us to the place where they believed Shibalang once lived on a hilly side of Changtai County which is now a forested area by a highway. It was most kind of them to take all the trouble to bring us to see all these sites.
A portrait of Chee family progenitor, Shibalang

The trip was truly a success and everyone agreed they learnt a lot about the Chee family. For most of us, we were only expecting to visit our village and be done with it. It turned out that visiting other Chee villages that we were distantly related to was an eye-opener and a humbling experience.
We were very fortunate that the path had already been ploughed and laid out for us. In general, finding the correct ancestral village is not easy and requires having complete information and many rounds of trial and error. It could take years and it is common for people to enter the wrong village and pray to the wrong ancestor!
For more recent Chinese Overseas families, this is less likely to be a problem; but for families like ours, which had been overseas for many generations and had little to no contact with their ancestral village, making the connection could be a real problem.
Over the course of this root-seeking trip, the greatest reward for us was the closer kinship bonds established amongst Malacca Chee clan members - the sense of being family.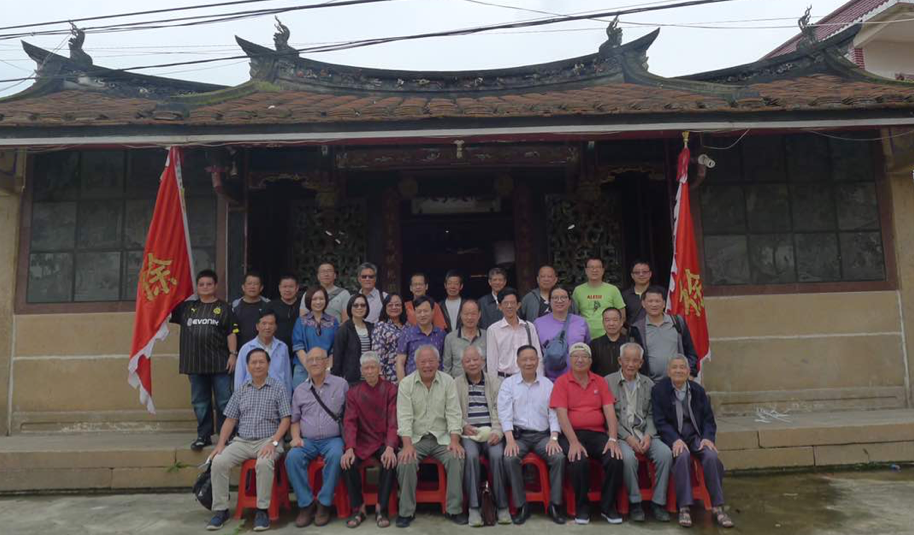 Group photo session at Shimei Village Chee Ancestral Templ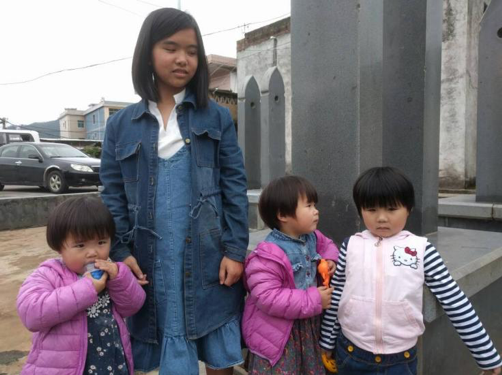 Elder sister taking care of young triplets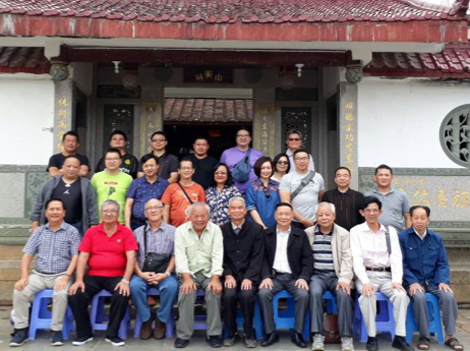 Group photo at Shanmei Chee Ancestral Temple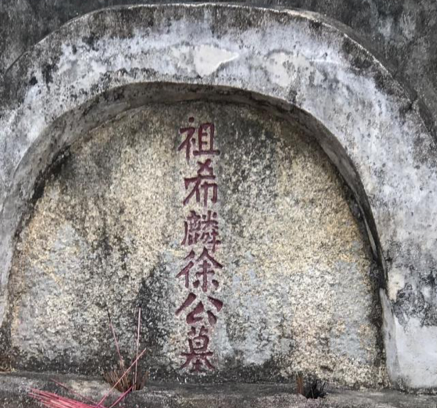 Grave of Shanmei village Chee clan founder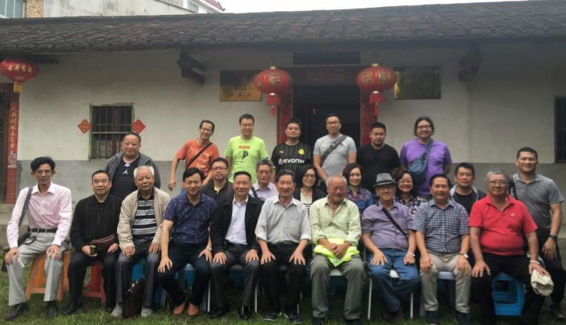 Group photo at Dayintang Chee Ancestral Temple
---
All articles/videos are prohibited from reproducing without the permission of the copyright holder.