Migration of the Cantonese (Guangdong) People to Southeast Asia
The earliest migration of the Cantonese (broadly referring to the people from Guangdong province, more narrowly from the Pearl River delta in south central Guangdong) to Southeast Asia is difficult to ascertain. But it is not wrong to say that the migration was initiated when Panyu (番禺) or Guangzhou (廣州) gradually developed into an important port under the Wu Kingdom (222-280 CE). The rise of Guangzhou gradually replaced the ports in the Gulf of Tongking, namely Rinan (日南), Xuwen (徐聞) and Hepu (合浦), and became the centre of maritime activities which had overseas trade with Southeast Asia.
In the middle of the Tang period (唐朝), Guangzhou did not only reach its apex as a maritime centre but also became the leading port for China's foreign trade. Its major trading partner in Southeast Asia was Srivijaya kingdom centring around Sumatra in today's Indonesia. The kingdom dominated maritime commerce passing through Southeast Asia between AD 670 and 1025, organizing the commercial exchange of Southeast Asian products – products from the Java Sea realm as well as those goods produced in its own hinterland – for those of China and the West. From 720 to 904 AD, the Maharajas (Kings) of Srivijaya had sent at least six envoys to China via Guangzhou. During the Song dynasty, there was an upsurge in Srivijaya's envoys to China. From 960 AD to 1178 AD, there were thirty-two envoys sent to China. These envoys of Srivijaya indicated not only the dynamic tributary trade between Southeast Asia and China, but also the migration and settlement of the Cantonese in Southeast Asia.
Cantonese merchants founded a small settlement abroad as early as the Tang dynasty. There was a settlement of Cantonese merchants on an island known as Lung-ya-men (龍牙門the Straits of Linga) at Palembang in Sumatra. The Cantonese of this settlement, originating mainly from Xinhui (新會) in Guangdong migrated to Palembang (巨港) in 879 AD when the Huang Chao (黃巢) rebellion broke out and captured Guangzhou. Another wave of Cantonese migrants, mainly from Taishan (台山), Kaiping (開平), Xinhui (新會), Engping (恩平), and Heshan (鶴山), went to Southeast Asia after an unsuccessful resistance against the Yuan rule over Guangdong in 1284.
The period 1368-1644 saw China under the reign of the Ming dynasty (明朝). The Ming's tribute trade and maritime prohibition, and Cheng Ho's voyages played an important role in contributing to the rise of Cantonese settlement in Southeast Asia. Chen Zu-yi (陳祖義) for instance, a Cantonese, had led his whole family to migrate from China to Palembang during the Hung-wu period (1368-1398). In 1407, Chen was denounced as a pirate and Cheng Ho (鄭和) moved forcefully against him. Another Cantonese, Liang Dao Ming (梁道明) brought his family from Nanhai (南海) to join his father, who was a trader in Palembang in the early years of Ming rule. Later Liang became the leader of the Chinese community and controlled some towns and villages in Palembang. His son went to China with the first envoy of the Yongle Emperor to reach Palembang and Liang himself went in 1405.
The Qing takeover of South China had spurred further emigration of substantial groups of Cantonese in the mid of 17th century. They moved to Southeast Asia and settled in Siam, Cambodia, and the Nguyen lands of Southern Vietnam. Around 1700, the Chinese community in Ayutthaya numbered over 3,000. The presence of a significant proportion of Cantonese people can be gauged from the Chinese settlements making sweets, noodles, barrels, water jars, rattan furniture, and metal goods. The Nguyen Cochin China was another sanctuary for the Cantonese migrants. Thanks to the more relaxed attitude of Nguyen lords towards the Chinese, significant Chinese trading communities were established in Hue (順化), Hoi An (會安), and Qui Nhon (歸仁), and later Saigon (西貢). In Hoi An alone, the Chinese population was estimated to be 4000 – 5000 in 1642. In 1679, more than 3,000 armed Chinese soldiers from Guangdong and Guangxi led by two Cantonese, Yang Yandi (楊彥迪) and Chen Shangchuan (陳上川) fleeing to Cochin China were granted asylum and settled in the Mekong Delta, where markets and ports were established. By the end of the 18th century, the Chinese population in Cochin China, with a Cantonese majority, had probably reached 30,000 – 40,000.
1740 to 1784 was a tumultuous period for certain Chinese settlements. In 1767, for instance, the Burmese launched a fierce attack on Ayutthaya and captured the city, putting the Cantonese residents to flight to the peninsular ports dotting the Gulf of Siam. Some settled in the newly-established capital – Thonburi, which became Bangkok in 1782, while some settled in Songkla, Pattalung, Nakhon Si Thammarat, Surat Thani, and Hatien. In 1783, the Tay Son rebels captured Saigon and massacred more than 10,000 Chinese, thus driving the Cantonese-majority Chinese population, out of Saigon to the surrounding port-polities, such as Pattani, Terengganu, Kelantan, and Brunei.
During the end of the 18th century and the turn of the 19th century, Penang and Singapore, the two entrepots established by the British, offered better security and business prospects in Southeast Asia. The Cantonese, who were sojourning in the surrounding area, seized the opportunity and moved to the two islands. Penang, which was founded as a trading post in 1786, saw the arrival of the first group of Cantonese artisans and tradesmen, who founded the first brotherhood hui or secret society – Nghee Heng/Ghee Hin (義興) in the 1790s. Its first president was Liang Xianzheng (梁顯正), a Cantonese from Shunde (順德) district. The succeeding three presidents of the society – Mun Appo/Mun Fo (文科), Lee Coyn (李遇賢), and Vong Tsun Tsong (黃進聰) were also Cantonese originating from Xiangshan (香山) and Taishan (台山). With the growing number of Cantonese migrants in Penang, the Cantonese associations had proliferated and diversified into dialect and locality-based associations, such as Chung Shan Association (中山會館1805), Taishan Association (台山會館1833), Shunde Association (順德會館1838), and Xinhui Association (新會會館1873). The emergence of such diverse associations was to provide welfare and assistance to fellow migrants from the same district, a common phenomenon wherever overseas Chinese were found.
The first clan association of the Cantonese in Singapore was Ning Yang Association寧陽會館 founded in 1822 by Tsao Ah-chih (曹亞志) and his fellow clansmen from Xinning (新寧now Taishan台山). It was later followed by the founding of Guangzhou Huiguan (廣州會館) in 1843 by the Xinhui Cantonese and the Zhaoxing Huiguan (肇興會館) in 1879 by the Enping and Kaiping Cantonese. All these Cantonese were the first batch of Chinese immigrants who followed Stamford Raffles from Penang to Singapore following its opening as an entrpot in May 1819. The Wuyi (五邑)Cantonese from Xiangshan (香山), Shunde (順德), Dongguan (東莞), Panyu (番禺), and Nanhai (南海) also established their own associations, such as Zhongshan Association (中山會館) in 1838, Nanshun Huiguan (南順會館) in 1839, Dongan Huiguan (東安會館) in 1876, and Panyu Huiguan (番禺會館) in 1879.
With the discovery of rich tin deposits in Perak, Selangor and Negeri Sembilan, the Cantonese immigrants of Penang and Singapore flocked to the three Malay states and embarked on promising tin-mining activities. Some fared well and became prominent tin mining magnates. Loke Yew (陸佑) and Eu Tong Sen (余東璇) were the two shining examples of the time. Loke Yew was born in 1846 in Heshan (鶴山) county and spent his childhood in Xinhui county. In 1859, he left for Singapore and worked as an assistant in Kwong Man, a sundry shop at Market Street. Four years later, Loke opened his own shop – Tong Hing Loong (東興隆) in New Market Road and operated for six years. Leaving the business in the care of his manager, Loke moved to Kuala Lumpur and set up a branch of Tong Hing Loong there.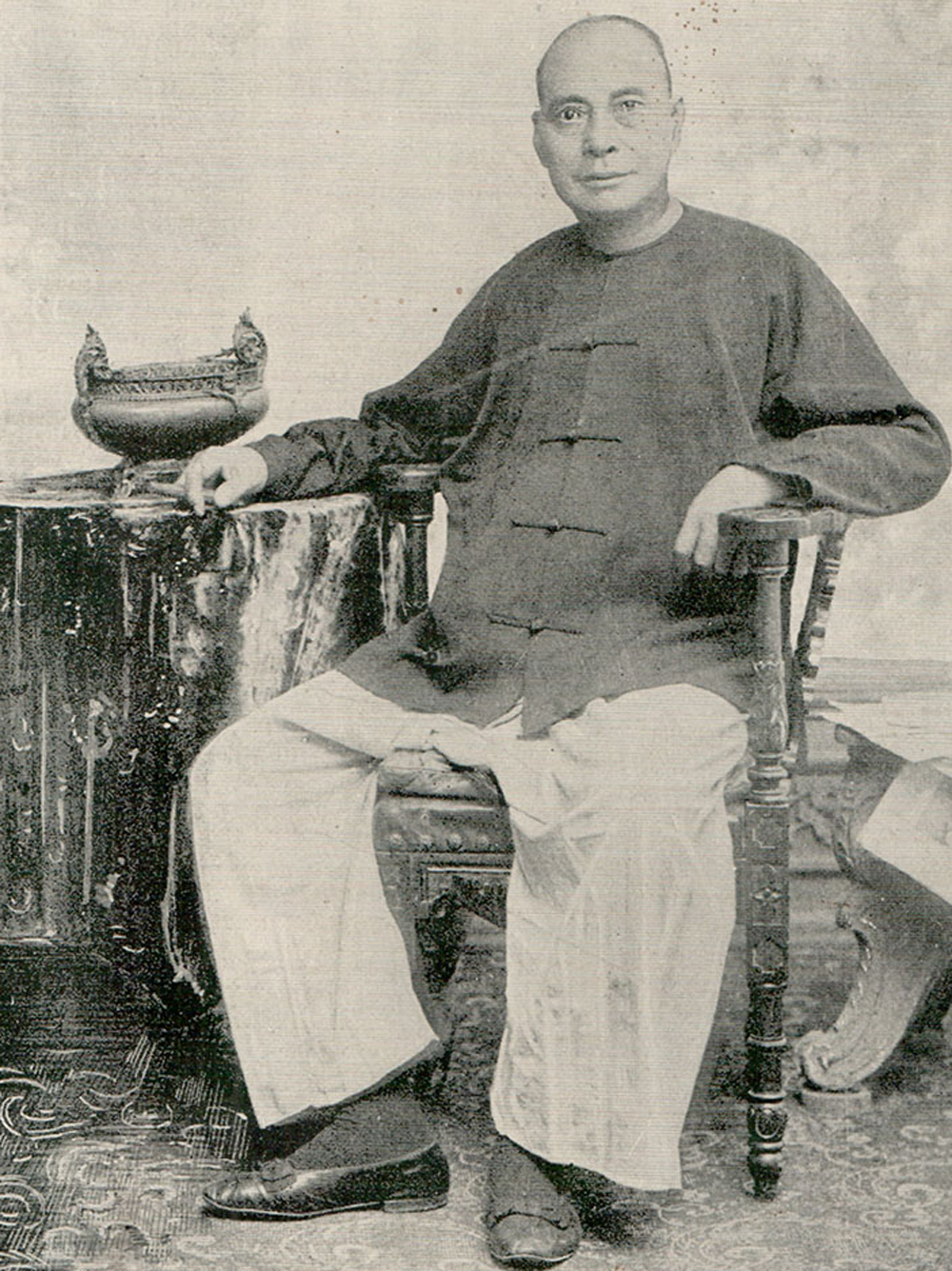 Loke Yew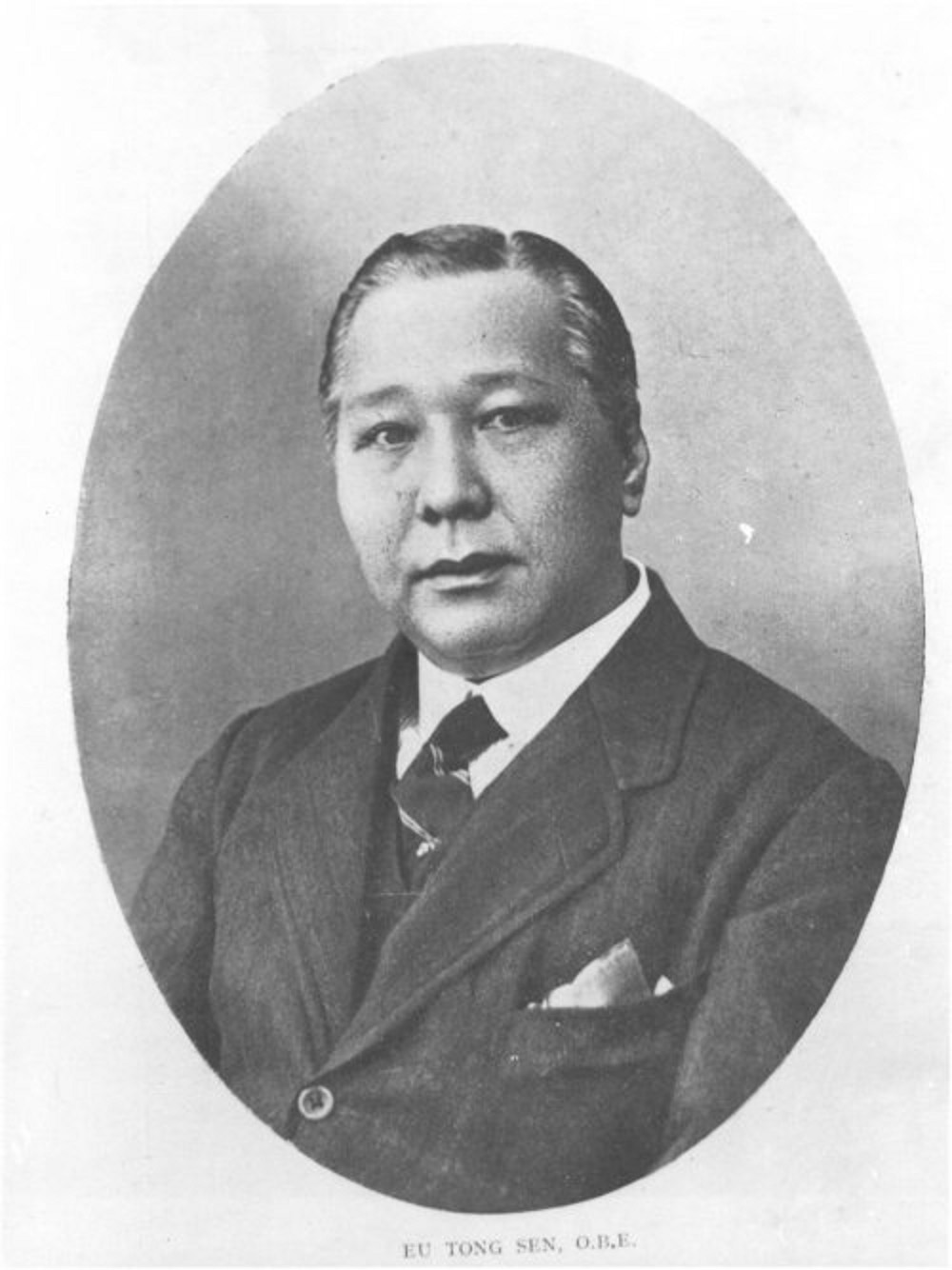 Eu Tong Sen
Around 1870, he went to Taiping via Penang to tap on the tin mining industry of Larut by partnering with Chan Sow Lin (陳秀蓮) and Loh Ah Pang (羅亞鵬), the two leaders of Ghee Hin. It was in Larut and later Kinta Valley that Loke Yew accumulated his capitals and cultivated his networks with other Chinese businessmen and British officials. In 1882, Loke re-established his base in Kuala Lumpur and embarked on more business ventures. Within 10 years, he remarkably built a business empire, encompassing tin mining, rubber plantations, revenue farms, manufacturing, and construction that generated enormous wealth. His wealth was estimated to be worth more than $80 million Straits dollars in 1917. Loke was conspicuously noted for enormous educational and philanthropic endowments. In 1912, for instance, he made a generous donation of $100,000 to support the establishment of Hong Kong University and later he offered the university a loan of $500,000 interest free. In recognition of Loke's financial support, the university conferred an honorary degree of Doctor of Laws (LL.D) on him in 1917 and renamed the Great Hall as Loke Yew Hall in 1956.
Eu Tong Sen, whose ancestry could be traced back to Foshan district of Guangdong, was born in Penang in 1877 and later came to prominence in the tin-mining industry. Eu inherited his father's network and businesses, which encompassed tin mines, revenue farms, and a general provision shop – Chop Yan Sang (仁生). Having these resources, he later moved his base from Gopeng to Kampar, where rich tin deposits were discovered, and expanded his family business. By 1907, Eu owned eight mines in Malaya and employed 11,000 mine workers. Apart from tin-mining, his business ventures also extended into rubber plantations and the handling of remittances to China.
His medicine and grocery shop – Eu Yan Sang (余仁生), – with the attachment of the family name, served as remittance agents, spreading branches from Malaya to Singapore, Hong Kong, and Canton. Eu Yan Sang dominated the remittance trade with Guangdong and Guangxi, particularly through its branches in Singapore and Penang. It was the largest remittance firm in Canton, handling 50 per cent of all remittances to that city in 1913. Eu Yan Sang was regarded in the Taiwan Bank Report of 1915 as the largest remitting houses in Penang, Canton and Hong Kong. The success of the remittance business prompted Eu to set up the Lee Wah Bank (利華銀行) together with a group of rich Cantonese merchants like Li Sing Yu (李聲餘), Ng Seng Phang (吳勝鵬), Yow Ngan Pan (邱雁賓), Ho Lok Yu (何樂如), and Cheong Yok Choy (張郁才) in Malaya and Singapore, in 1920.
By the late 1920s, the most profitable activity for Eu was the remittances between Southeast Asia and China. It was for this reason that the Eu family shifted its business base from Singapore to Hong Kong. Capital generated from the remittance business was reinvested in land and properties. In short, Eu's family business had diversified from tin-mining to rubber planting, remittance, banking and properties. However, the Eu descendants gradually abandoned their diversified business interests and concentrated on the Chinese Traditional Chinese Medicine (TCM) business in the late 1980s. By 2000, Eu Yan Sang had evolved into a Chinese medicine retail chain with more than 150 outlets in Hong Kong, Macau, China, Malaysia, Singapore, and Australia. Today, Eu Yan Sang is a household name in Asia with an unrivalled reputation as the leader in the TCM retail industry. Like many other rich Chinese towkays (bosses) of his time, Eu performed charitable deeds with great zeal. Schools, universities and hospitals were among the biggest beneficiaries. In 1918, for instance, he donated HK$55,000 to the Hong Kong University and became a patron of the institution.
The passing of Loke Yew and Eu Tong Sen did not mark the end of the Cantonese business influence in Malaya. Instead, we see the rise of another group of Cantonese entrepreneurs in modern Malaysia. Leong Hoy Kum (梁海金) and Kwan Kam Hon @ Kwan Kam Onn (關錦安), for instance, are two successful Cantonese entrepreneurs that have carved a niche for themselves in independent Malaysia. Leong Hoy Kum was born in Kedah, Malaysia in 1957 and his ancestor hailed from Guangzhou. In the 1970s, he joined his father's firm, Mah Sing (馬星), ― a plastic trading enterprise. In 1982, Leong took the lead to transform Mah Sing into a plastic manufacturer, which became one of the largest in Malaysia and Indonesia. In 1994, Leong forged a new path for Mah Sing by entering the property sector, which ended up becoming the company's core business with more than 50 property projects throughout Malaysia. Today Mah Sing is one of the few fully integrated property developers and Leong was named "Property Man 2021" at the Malaysia Property Awards (MPA).
Kuan Kam Hon @ Kwan Kam Onn was born in Kuala Lumpur in 1947 and his ancestors were also from the Guangzhou region. In 1969, he started his career in the building and construction sector under his father's company, Kuan Yuen & Sons Company. In 1981, he started the manufacturing of latex gloves under Hartalega Sdn Bhd (賀達佳有限公司), which was the first Malaysian company to introduce a robotic glove stripping system. In 2002, the company introduced users to the world's first high elasticity nitrile examination glove. By 2008, it had become Malaysia's largest and the world's second largest nitrile glove producer and gained a 20% share of the US synthetic glove market. Two years later, Kuan's company zoomed past the competition to become the largest producer of nitrile gloves in the world.
The Cantonese were one of the earliest Chinese groups to migrate to Southeast Asia. Malaysia and Singapore are perhaps the two countries that host the largest number of Cantonese migrants and their descendants in Southeast Asia. The Cantonese had first settled as artisans and tradesmen but later some ventured into more financially rewarding businesses like tin mining, rubber planting and revenue farms, which paved the way for their entrepreneurial achievements. As a result, they have emerged to play an equal (if not more important) role as other Chinese dialect groups in shaping the socioeconomic and political contours of the region.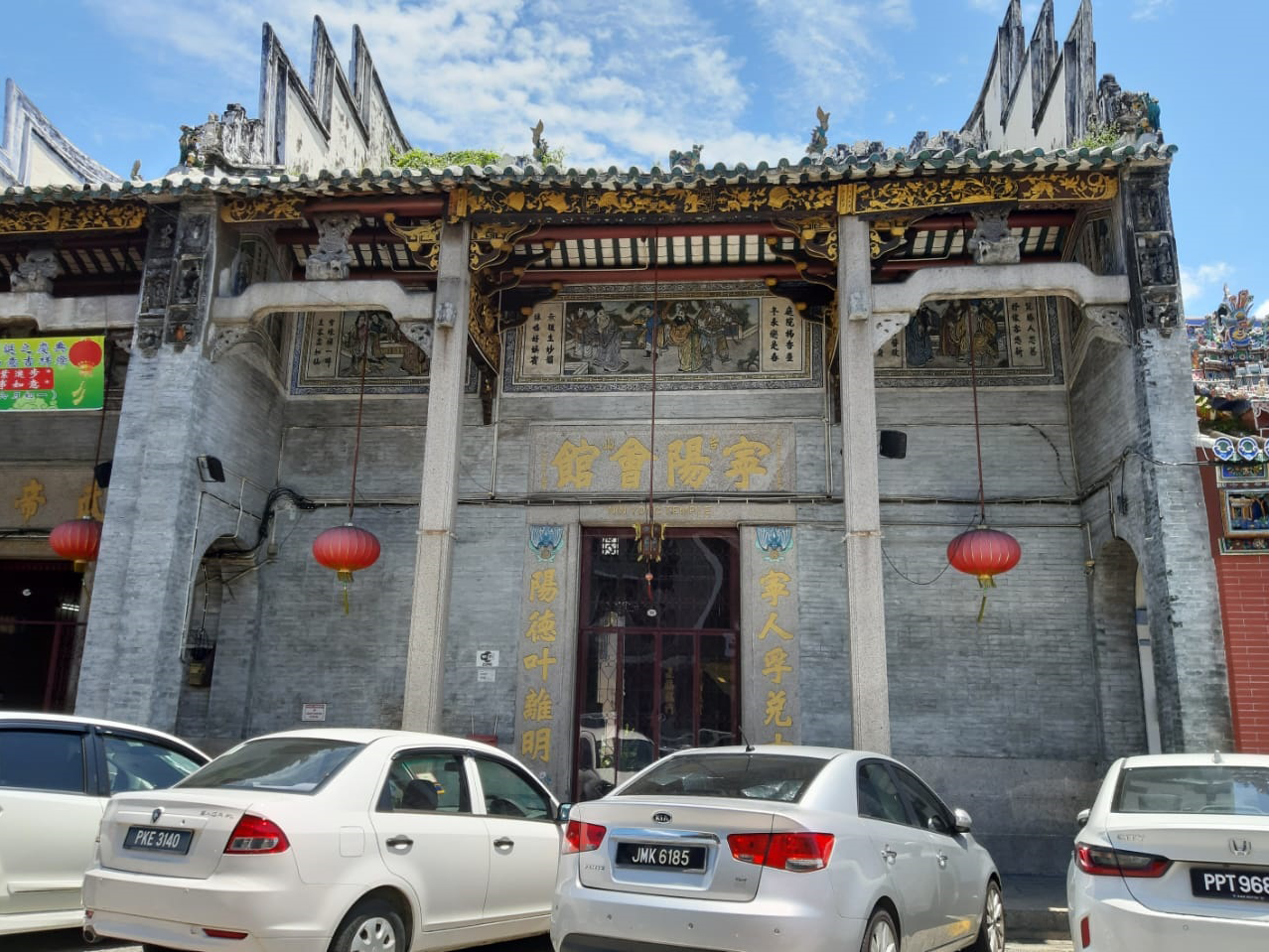 Ning Yang Association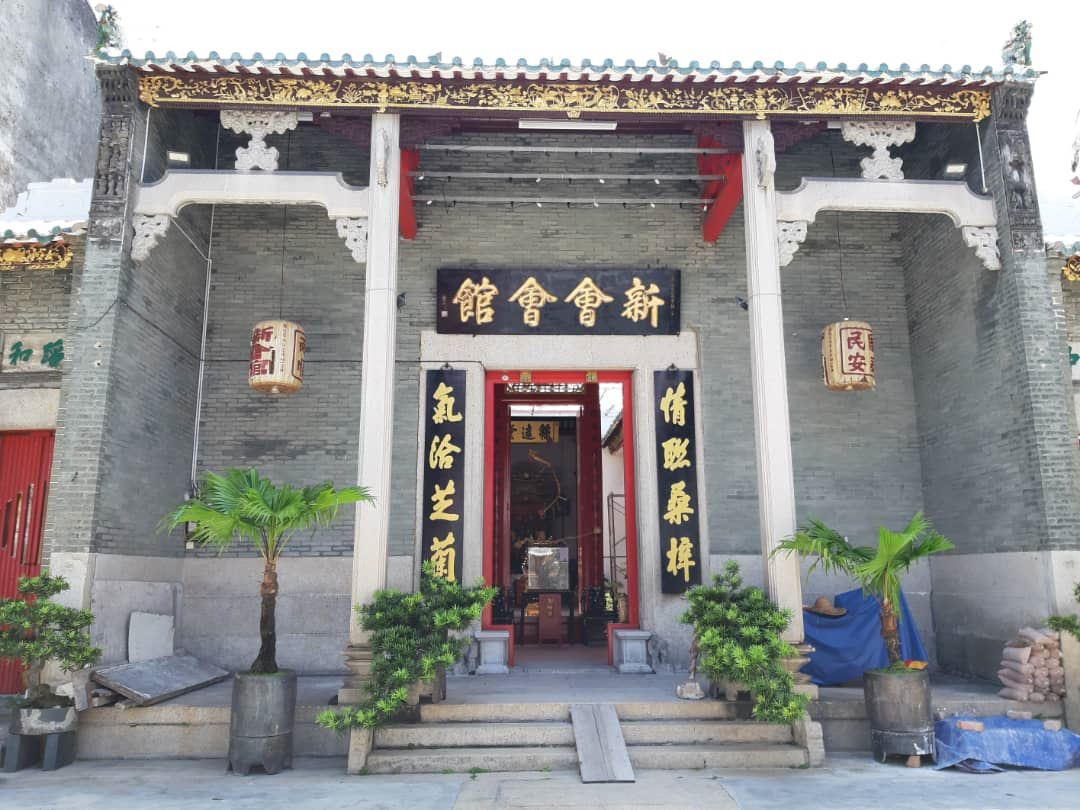 Xinhui Association
Xiangshan Association
---
Major References
1、 Geoff Wade and Sun Laichen, eds., Southeast Asia in the Fifteenth Century: The China Factor, Singapore, Hong Kong: NUS Press & Hong Kong University Press, 2010.
2、 IIsa Sharp, Path of the Righteous Crane: The life & legacy of Eu Tong Sen, Singapore: Landmark Books Pte Ltd, 2009.
3、 Lynn Pan, ed., The Encyclopedia of the Chinese Overseas, Singapore: Archipelago Press & Landmark Books, 1998.
4、 Neil Khor, Loke Yew: A Malayan Pioneer, Kuala Lumpur: Zamilyn Sdn Bhd, 2019.
5、 梅偉強、張國偉主編,《五邑華橋華人史》,廣東高等教育出版社,廣州,2001。
---
All articles/videos are prohibited from reproducing without the permission of the copyright holder.