Reconsider Truth and Beauty (2)
Indeed, a rosy blossom or a piece of greenish foliage makes people feel beautiful. It consists of many elements, like the color of the rosy blossom, the texture of petals, the shade of rays, and even the swaying in a storm. Here nature offers artists a wide diversity of aesthetic elements. If we merely add a rosy or green stroke to the canvas, without sufficient observation or knowledge (including botany and physics expertise), such aesthetic elements and spiritual experience would be significantly weakened. That is to say, without concrete objects in reality, the colors and strokes have almost zero if any value. Because with no more association or inspiration, the life of art comes to an end. Therefore, the blocks by Piet Cornelies Mondrian and strokes by Wassily Kandinsky are never as informative and resonating as the works of Peter Paul Rubens, Rembrandt Harmenszoon or Yafimovich Repin. Besides, the energy and wits they put into works are never the same.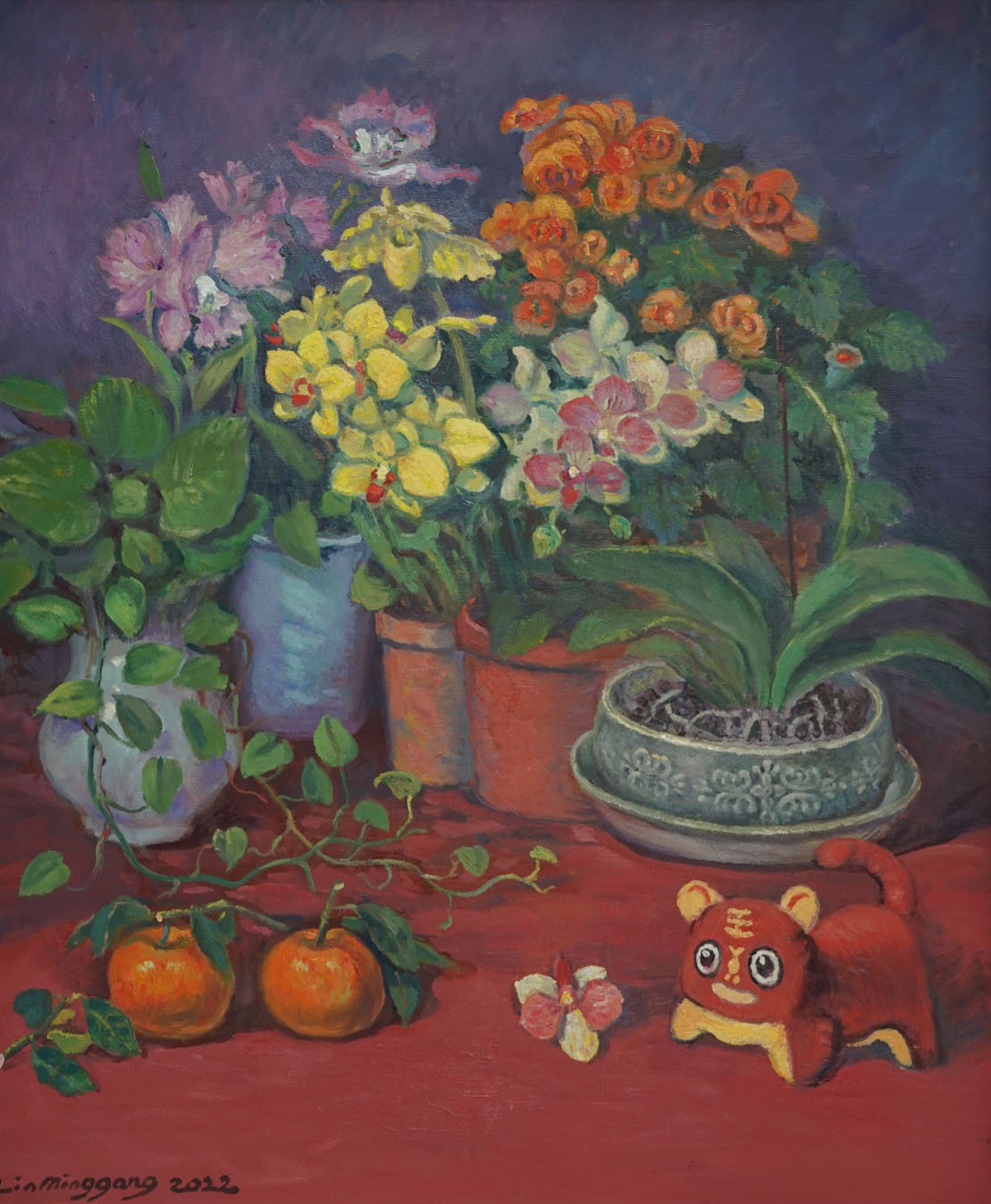 The Year of Tiger, 50X40cm Oil Canvas, 2022

As an old saying goes in China, "It's easy to describe a ghost, yet hard to describe a person." It reflects the difficulty in artistic creation quite vividly and profoundly. Compared with figurative paintings, abstract paintings seem free, yet they're often confusing, with the mentality limited to a narrow space. Figurative paintings seem reserved, yet unfold an infinite space within its limits, challenging the talents and wisdom of humans. They contain the evidence of life. And each viewer expects to find his or her own life evidence in the artworks. It's because of such evidence that they produce strong resonance, and thus artworks exert their genuine effect. So, without the evidence and participation of humans as the subject, all the artworks would seem empty and void, with little if any value. Hence strong and powerful aesthetic values come from the evidence of individual life and the integration of the group.
The broad world is concrete, substantial, sole, vivid and marvelous. The actual original appearance of the world is the most trustworthy, and closest to truth. It's lovable, tangible, visible, touchable, sensible, perceivable, thus closest to beauty and benevolence. As a popular line goes, "Each flower or grass contains a world." Without flowers and grass, we fail to understand the world. An ancient Chinese once said, "Without shape, what can hair depend on?" Shape is an existence in the world. Without shape, everything won't exist anymore. Of course, occasional appreciation of abstract nonexistent things may relax our vision for a while. Yet the greater real life forces us to perceive the diversified world in an all-round way. The real mental peace determines the taste and values of our life. We're in urgent demand for a life bridge that suits ourselves best. Fine culture and art are like a life bridge, where we can enjoy the scenery both on and beneath the bridge to the fullest, and appreciate the wonderful views around the world. We may not be able to reach the realm of Nirvana. Nonetheless, we already lead a comfortable, carefree, plentiful and real life. It's precious to be real.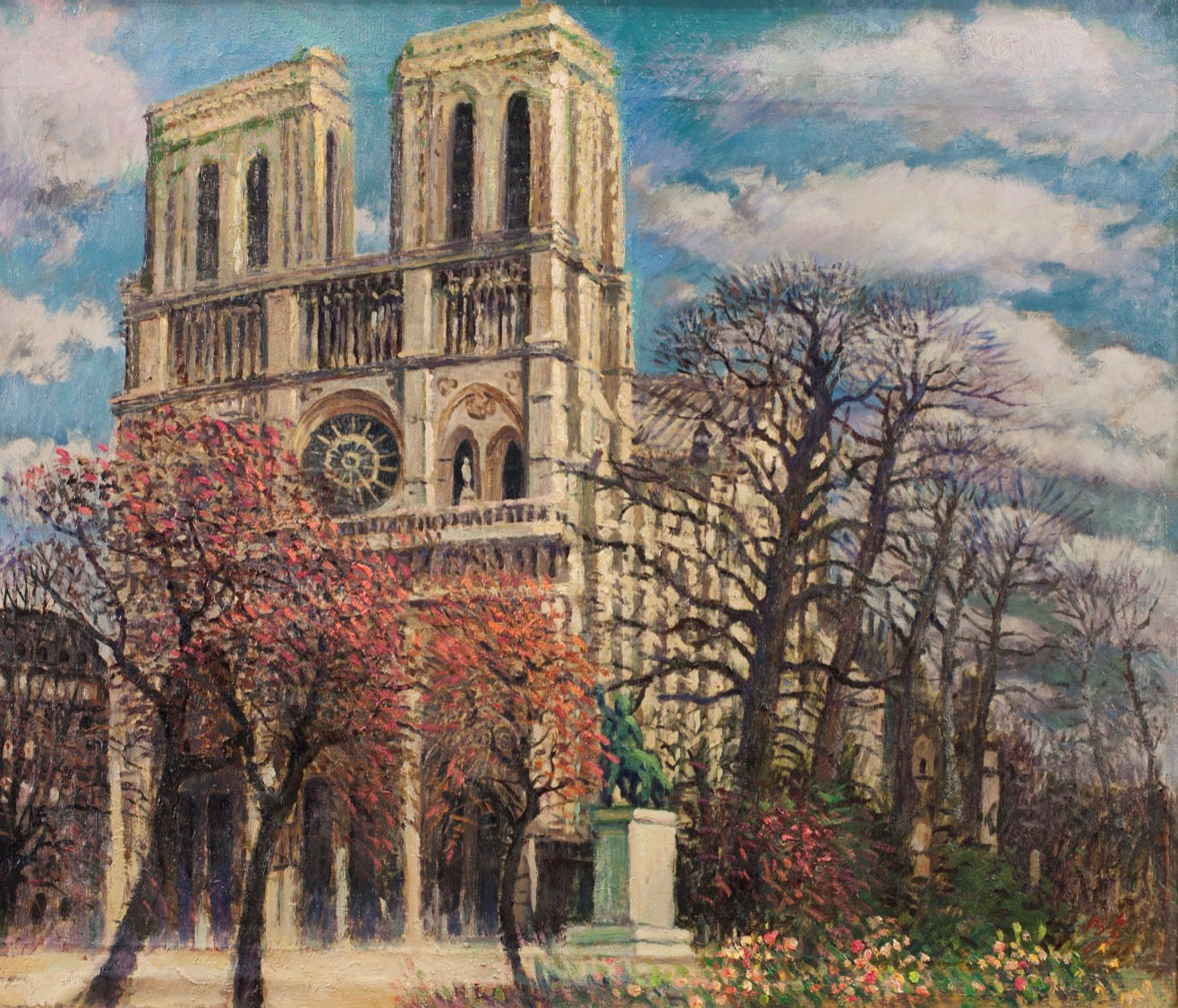 Notre-Dame de Paris, 66X77cm, 1991

The nature of art lies in existence. The existence of truth depends on the existence of The Way. An ancient Chinese proposed that "Seeing is believing." I consider it a basic value judgement. Without this base, everything is meaningless. Benedetto Croce in Italy advocated "Intuition is expression" in his Expressionism Theory, which inverted truth and beauty, led to a complete deconstruction of truth and beauty, and left everything illusory. Though, it's time to return to the way things are. I come to realize that beauty and ugliness, good and evil, exist as a pair of opposites, and rank in comparison. Only when we understand beauty can we know about ugliness. Only when we approach good will we distance ourselves from evil. Of course, truth does not necessarily mean beauty. Beauty has certain conditions. I'm also convinced that beauty has certain levels, at least three, i.e. Lesser Beauty, Middle Beauty and Greater Beauty. As for The Best in Beauty, Greater Beauty and Fullest Beauty, they're beyond the reach of common people. I think for most people, the access to the aesthetic realm enables a relatively happy and perfect life.
It's common to see crowds lingering by and staring at Mona Lisa by Leonardo da Vinci in the Louvre, so immersed as forgetting to leave. We also forget ourselves in face of Journey by River in Mountains that Fan Kuan painted hundreds of years ago. Why would we sigh deeply when reading A Dream in Red Mansions? Why are their works glamorous to this day? Maybe it's the millennium answer to the issue of truth and beauty.
All photos are paintings by Mr. Lam.
---
All articles/videos are prohibited from reproducing without the permission of the copyright holder.